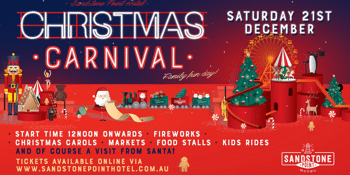 Sandstone Point Hotel present
Christmas Carnival
Family Fun Day!
Sandstone Point Hotel (Sandstone Point, QLD)
Saturday, 21 December 2019 12:00 PM
Brace your elves! The annual Christmas Carnival is back on Saturday 21st December at Sandstone Point Hotel. Tis' the season to be jolly and you'll find plenty to be jolly about with markets, food stalls, kids rides, live music, entertainment, Christmas carols, fireworks and of course a visit from Santa! Starting from 12 noon celebrate the silly season, Aussie style with a day on the waterfront followed by a not so silent night singing to your favourite Christmas jams!